Puerto Rico ParaglidingŠ
"ATREVETE, PA'GOZAŠ"

WELCOME TO PUERTO RICO PARAGLIDING...
Hola y saludos para todos!
This Web Page is to provide you with some information about paragliding in Puerto Rico, my paragliding dreams and about the sport in general.

Feel free to look around. I will add more information as I advance through the sport of paragliding so you can see some of my progress.

Everything in here is done by myself, so I'm learning to paraglide and to do my own web designing at the same time. Very interesting.

Please sign my Guestbook and let me know what you think about this web page. What kind of information you will like to see or any other thoughts or suggestions. It will be of great help to me in trying to provide something useful to all you wonderful people out there.



"FLY HIGH AND KEEP ON DREAMING&copy"
Check out our new Puerto Rico Paragliding page on facebook. I will try to keep updating it frequently, but no promises, cause, buzy, buzy, buzy, bee, lol.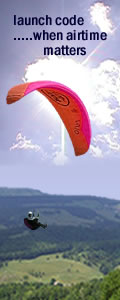 And don't forget to stop by our GALLERY page for some of our latest info, pictures and videos and come back soon for some more "fun under the sun".




"ATREVETE, PA'GOZA&copy"


If you have any comments or suggestions, please send them to me at: flyprp@hotmail.com. I'm in WA state at the moment but if you have any questions about flying in Puerto Rico, please feel free to contact Vanessa and Jose Marcano from Paraglide PR. They are really nice people. Their web page is: paraglidingpr.com. Tell them that Jorge Vega from Puerto Rico Paragliding sent you. They do teach paragliding there, have the most currrent information, know all the good places and will take good care of you. "THANK YOU" for your support.

Just remember, YOU CAN DO IT TOO, so what are you waiting for, get buzy and I'll C ya in the sky.



Puerto Rico Paragliding, Adding "Fun" to Our Lives&copy.























This entire site &copy 2005-2012 Puerto Rico Paragliding.Com All of the photographs herein or within the galleries, unless otherwise noted, are copyrighted by the photographer and may not be used or reproduced in any manner whatsoever without express permission of the copyright holder.